When:
December 20, 2020 @ 10:00 am – 12:30 pm
2020-12-20T10:00:00-08:00
2020-12-20T12:30:00-08:00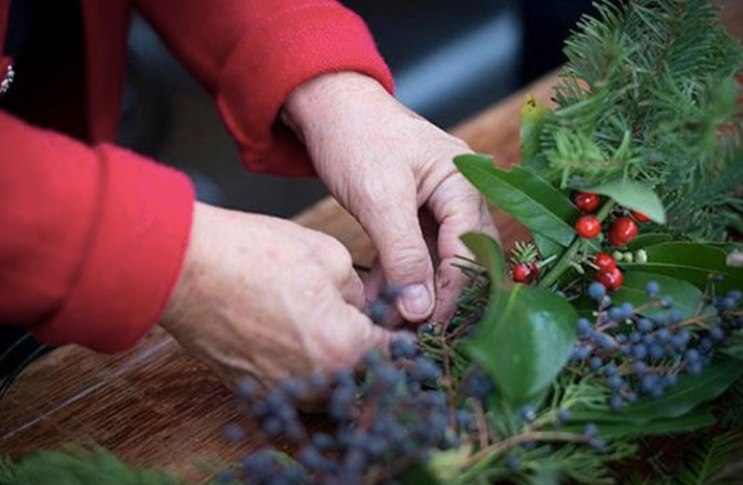 Gather your family or household together for a virtual wreath-making workshop using real greenery! Due to the stay-at-home order our in-person workshop was canceled, so we moved it to Zoom on Sunday, Dec. 20, 10 a.m.-12:30 p.m. Sign up

HERE

.
Drop by Sonoma Garden Park the day before for a FREE box of wreath-making materials—all beautiful local greenery and forest findings. During the workshop, Julia and Alma will teach techniques to bundle and loop, creating original and natural rings of glory. Space is limited!
NOTE: Boxes of wreath-making materials will be ready for pick-up at Sonoma Garden Park on Saturday, Dec. 19, 9 a.m.-12 p.m. at Sonoma Garden Park. The only other item that you will need is a sharp pair of scissors and that solstice spirit! Sonoma Garden Park is located at 19996 7th Street East, Sonoma.
An ancient tradition, wreaths make the perfect winter welcome at an entrance, holiday centerpiece, or wall decoration. Whether yours is a traditional evergreen wreath or a new year "hoop of hope," its intention will shine through. This free, bilingual and family-friendly workshop is led by SEC's Education Project Manager Julia Megna and SEC's Senderos Coordinator Alma Shaw.
Sonoma Garden Park was protected by Ag + Open Space in November 2011 for recreation and preservation of its natural resources and as a learning classroom environment for agriculture field trips for nearby elementary schools through Sonoma Ecology Center's Growing Discovery program. The 6-acre property, located in eastern Sonoma, is an incredible public park and working garden site in Sonoma Valley, containing a wide array of habitats alongside sustainably designed systems for both agriculture use and landscaping purposes.
There is no charge for this outing, which is made possible by the voters of Sonoma County who fund the work of Ag + Open Space with a quarter-cent sales tax.
*Donations for the additional supplies required for the take-home kits are graciously appreciated.
---
Taller de construcción de coronas navideñas
Domingo 20 de diciembre, 10:30-12:30pm
¡Amigos, reunámonos alrededor del solsticio invernal! Construiremos algo bello proveniente de la naturaleza para decorar su casa o regalar.
Sonoma Ecology Center los invita a un taller de fabricación de coronas navideñas VIRTUAL de Sonoma Garden Park el lunes 21 de diciembre. Utilizando verdor y materiales encontrados en bosques locales, aprenderá técnicas para enlazar manojos, creando esplendorosos aros originales. Una tradición antigua, las coronas son la perfecta bienvenida en una entrada, piezas de centro de mesa, o decoración de pared. Ya sea una guirnalda de hoja perenne tradicional o un 'aro de esperanza' para el año nuevo, su intención brillará a través de ella.
Email Alma Shaw, coordinadora del programa Senderos para Team Sugarloaf y SEC.