When:
November 11, 2019 @ 8:00 am – 10:00 am
2019-11-11T08:00:00-08:00
2019-11-11T10:00:00-08:00
Where:
Sugarloaf Ridge State Park
2605 Adobe Canyon Rd Kenwood
CA 95452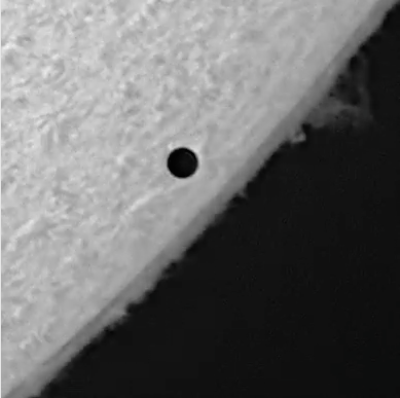 Did you know a rare astronomical occurrence is happening Veterans Day morning? Mercury will transit (move across the face of) the Sun from sunrise until just after 10 a.m., and its movement can be safely viewed with the right equipment. This won't happen again for 13 years – and the next transit visible from the U.S. won't happen until 2049!
We know of two great options for viewing this event in Sonoma Valley. One is at Sugarloaf Ridge State Park's Robert Ferguson Observatory, where astronomers will be setting up a "neutral density filtered scope" from 8 a.m. to 10 a.m. (As can be seen in this time lapse, Sugarloaf has been fog-free in the mornings lately, and that weather is expected to continue.) Afterward, join Sugarloaf docents for a Veterans Day Family Hike, starting 10 a.m. from the White Barn!
The other option is on the Sonoma Bike Path near 4th St. West in Sonoma, also from 8 a.m. to 10 a.m. Organized by Rachel Freed, this is a come-one-come-all opportunity to see the first rock from the Sun through one of Rachel's telescopes.
Happy viewing!